I visited my friend Kim for the first time in a couple of months this past Saturday. Catching up, I mentioned I'd given up meat for Lent. "Well, you jumped out there on that one, didn't you?" she smilingly teased and teasingly smiled. "Get a little caught up in the moment?" Heh.
"This will give me opportunities to explore new things," went one thought I had when I was considering it. "I have several favorite foods that happen to be vegetarian. I'll have a different one every week!" went another.
Now, today, it reminds me exactly of how easy it was to map out an ambitious quit-smoking program when I hadn't set them down yet. A head still steadily sucking Marlboro smoke into itself makes all sorts of wonderful plans—for tomorrow.
My vegetarian "adventure" is nothing of the sort. It sucks. It's awful. It's a slog. I hate it. It gives me thoughts like "OK, that's lunch on day six in the books. What percentage of this is over now?" (That would be 12.3%—right at an eighth of the way through this.)
This is how you do Chapala, our longstanding Mexican haunt, if you're a vegetarian. It looks good, and it was, but that's just cheese in that enchilada, and only refried beans lurk under that guacamole: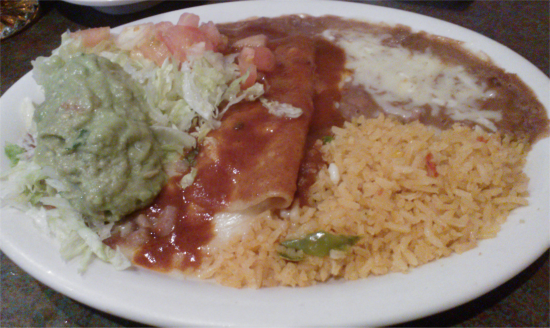 "You know, you can take Sundays off, as they're celebrations of His resurrection and don't count in the forty days," more than one person has reminded me. Yes, I'm intellectually aware that a case has been made for that thinking. But guess what? The Bible doesn't tell us that Jesus got to eat every seventh day. It feels like cheating to me, and I won't do it. For me, giving up something for Lent is Ash Wednesday to Easter Sunday, and hammer down, baybee.
Salt in the wound: I learned today that Mikawa is closing at the end of the month. Widely regarded as the finest Japanese restaurant in Huntsville, even by actual Japanese people, I am saddened that I'm not going to get to have a $40 sushi blowout there to send it on its way.
"Oh, just go do it. It's fish, man, not meat meat," the colleague who told me of the closing said this morning. Yeah, it's tempting.
I'm going to resist, though. As unpleasant as this has been, I know it's no real crisis, and I'm ashamed of myself for being this put out by it. I'm hoping to get past this temper tantrum my physical self is throwing and get to a more spiritual place with it soon.
No matter what, I'm confident I'll remain compliant through Easter Sunday morning. I'd like to jettison the resentment sometime before then, though, and replace it with contemplation. The point is to remember and reflect upon what my God made flesh and blood endured in the desert.
My intellect recognizes that. My spirit craves it.
So my body simply must be subdued. And that's final.