Lea poked her head in the study last night about 11.
"You smell a skunk?"
"Uh…no…wait a minute…yeah, now that you mention it.  Must be close, huh?"
"Really close.  Our yard.  It's a lot stronger in our bedroom."
And so it was.
I went to the garage to grab my cheapie Home Depot eight-hundred-million-gazillion-candlepower spotlight, and stepped out onto the deck to investigate.
Yeah.  So.
Dear reader, I tried three different times today to put the smell into words, and utterly failed.  I'll do so a fourth time here, I'm sure, but I'll give it a shot.  That smell was one with my soul.  I tasted it—all the way down to my small intestine.  My eyes began actively weeping (far beyond "watering").  I swore I could see it.  I have smelled skunk spray dozens of times, and I'm telling you last night was some seriously next-level shit.
Mouth-breathing as best I could, I stepped a little further into the night, and saw Brenna intently working on something just about halfway between the deck steps and the gate.  I gingerly raised my light and saw that her occupation was about a fourth of a skunk.
My dog is eating a skunk.
Now I know Brenna didn't kill the skunk.  She was once a formidable Lab/chow/shepherd mix, but now she's 14 years old, arthritic, and totally blind.  So Bailey was the likely executioner, and one whiff of my eager little springer spaniel mix confirmed it.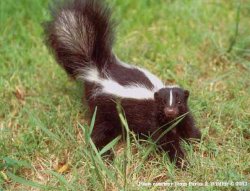 I started parsing the likely events during a meeting this morning, and there's a lot of weirdness.  Bailey smelled bad even this morning, but it wasn't overpowering.  And why isn't he hurt?  And why didn't we hear the fight?  And how could they eat so much of the skunk before we detected the stench?
I'm guessing the dogs were doing their usual chilling when the skunk wandered into the pen.  When Bailey saw it and attacked, he must have surprised it, at least substantially and maybe completely.  His first shot was a good one, perhaps breaking the skunk's neck, because judging from Bailey's lack of injury and the fact that we didn't hear anything, the skunk didn't survive to fight long.
Moreover, I don't think Bailey received a controlled shot.  He stinks, but it's just not bad enough.  Apparently, when skunks sense imminent danger but don't know its exact nature, they can "cloud" their foulness instead of directing it at a known predator's face, and I'm thinking that's what happened.  (You wouldn't believe how much I've read about skunks in the past 24 hours.)
I called the veterinarian's office this morning to ask if we needed to do anything, and they said no, both dogs' rabies vaccinations are current and complications were highly unlikely.
This morning when I went to feed the dogs, the stench had lifted far more than I had dared hope, given the humidity.  Lea worked on Bailey today with a hydrogen peroxide/baking soda/dishwashing liquid solution, and improved him markedly.  And the house has receded to "extremely subtle" on the stink-o-meter.  I'm now confident that no extraordinary measures are indicated.  I'll change the intake filters tomorrow, and that'll be the end of it.  (Mostly; it may take a few weeks for outside to completely right itself.)  We were lucky.
As for the remaining 25% of Pepé, he's tied up in two heavy garbage bags in the outside can.  I'll move him somewhere farther away tomorrow.
Similar Posts: